Welcome !
Set in Mt. Sterling, Ohio just 24 miles south of Columbus, this 75 acre farm is home to broodmares, weanlings, race horses and yearlings. Visitors are always welcome to call and stop by for a tour of the facilities. Limited openings exist at the LMN Bred Stables, Inc.
Introducing an exciting opportunity for your horses to reach their full potential with an experienced harness horse farm. The LMN Bred Stables, Inc. offers a full range of services for your horse including broodmare breeding, yearling preparation, boarding, resting your horse between seasons, and turnouts. Owners live on the premises so your horse will receive individual attention no matter what your needs are.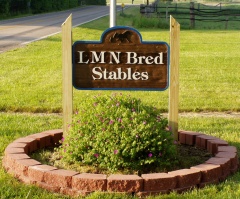 LMN Bred Stables, Inc.
17605 Clarks Run Road
Mt. Sterling, Ohio 43143
Mitch and Laura Nault
Contact Us:
Phone: 740-505-0182
E-mail: mcnault@gmail.com
Facilities Include
Large acreage for broodmares, weanlings and yearlings
6 paddocks with run-in sheds
1/3 mile training track
25 acres of alfalfa hay
22 stall barn
What can you expect?
Individualized attention for each horse.
The ability to be involved with your horse.
Good honest answers about your horse when you have questions about its status.
About the owners:
Commitment: Most of the daily chores are done by the owners, not by someone else. With a small semi-public stable, we get to know each horse well on a daily basis.
Communications: Weekly update on how your horses are doing.
Honesty: We will never lead an owner to believe his/her horse will be treated any differently than our own.
Experience: Over twenty years in the business.
Operations: Small semi-public stable selling yearlings in OH, PA, KY and Canada.